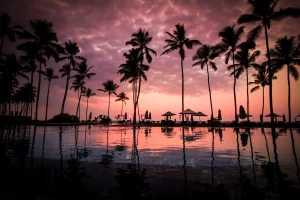 First of all, tap water is also called hard water. Yes, tap water might be drinkable to some people. But it is still not safe to drink because of the hundreds of contaminants because the city is sending us back recycled water to drink.
Would you drink water full of chemicals? And pipes are hundreds of years old, containing built-up calcium and magnesium. And at times corroded. Therefore, these chemicals will whiten the water. But, the chemicals will remain in the water.
You will be drinking contaminated water with chlorine, fluoride, and other chemicals. Boiling the water will most likely kill the bacteria, but the bacteria remain dead in the water. Those little cap screw-on filters are not good enough to filter out water. 
If you must get a screw-on filter, get the 

five-stage reverse osmosis system

 all in one screw-on filtration system. That has all five filters built into one. And easy to screw onto your faucet. So, it is much better to own your water purification system. In 'addition, it will help with your digestive system.
Apex Expert MR-1010 Countertop-5 Stages Reverse Osmosis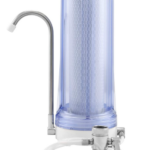 Bottled Water Is No Longer Safe To Drink
Plastic is 'made with a chemical compound called

 

BPA. Bisphenol-A.  Leaving your bottled water in a hot car will "leak" into the water and give you cancer. Not to mention, I have tested bottled water, and they are all acidic. It turns yellow when tested with a chemical kit, indicating its acidity.
Why Did The FDA Approve BPA?
The FDA approved BPA to be safe. But I have heard on the news that it is not safe to drink bottled water when left in a hot car. Or 'a hot storage area. If you research, you can find out which grocery store is the safest. They are most likely the ones with air conditioning in the back stocking dep. 'Where they have all the goods and meat come in the back door. 'You can always google it and find that out as well.
If you get upset from drinking that water, go to the doctor or emergency if you must. 'Imagine; how long it takes for these plastic bottles of water to get delivered. From across the country without air-conditioning. There will be a BPA leakage in the summertime for sure. Be careful what you drink, what you eat, and where you buy your food; 'Some people care about their health.
And some people are blind to the truth. For instance, my father passed away at a young age, only 69 'because he did not care about taking care of his 'good health. I tried to help him with advice, but he 'was already set in his ways. And he would say we all got to die of something someday anyhow.
My dad ate whatever he wanted to eat. He would eat banana nut ice cream before bedtime. And he had diabetes. He also had high blood pressure and wanted my mother to add more salt to his eggs.
The doctor also said he died of a heart attack from too much cholesterol in his system. So, what can I say? May he rest in peace. But we all have a 'choice' to make sure we stay optimizable health. Thus, there is no reason why" you should not ask to google any questions you may have in mind about healthy foods ext.
Make sure you drink at least the proper amount of water a day. And try not to overwork yourself. Overthinking and worrying can bring stress to your mind and body. Bottled water will turn yellow because of its acidity; in most cases, all bottled water is acidic. But alkaline water will turn either purple or light blue.
I have seen bottled water stacked outside a grocery store in the heat. The water is no longer suitable to drink because it is most likely 'contaminated by the overheating conditions. Melting the BPA leak into the water.
BPA was safe by the FDA's approval. But, recent research has found it to be cancerous to your health. Furthermore, it will give you cancer once it leaks into your water. If you keep drinking, that kind of water you will surely get cancer.
We do not know how long these plastic bottles have been hanging around. Whatever length of time in the heat or a hot storage area. It could turn deadly to the elderly, who are more susceptible because of their age. Their immune systems aren't as strong as when they were young.
Bones get fragile, muscles weaken, and your immune systems go down as you age. But you can still exercise and stand a chance of living a healthier life and having a steady immune system for the rest of your life.
There should be a rule for all grocery stores not to stock water outside in the heat. Or canned foods outside in the heat because of overstocking. Drinking out of these bottles of water is not safe at all.
Reverse Osmosis Water Purifiers
Reverse Osmosis water purification systems are outstanding. And will save you money from buying bottled water ever again. 'Because you deserve the best quality water for you, your family, and your business. Not only is alkaline water suitable for drinking, but it can also be great for washing your vegetables.
Showering it in a bath with alkaline water will leave your skin so smooth. Some people use soft water. I use alkaline water for drinking, washing vegetables, cooking, and washing dishes. Life is short; why not live it up and spoil yourself. You owe that much to yourself and your family.
Website Owner: Anthony
Bacteria
,
Benefits of drinking alkaline water
,
Best choice Reverse osmosis water purifiers
,
Blogunary
,
Cancer
,
Cancer cells
,
Chemicals
,
Conaminants
,
E-Coli
,
Filter water
,
Foodborne illness
,
Puri
,
Purity system
,
semipermeable membrane
,
Sewage water treatment centers
,
Tainted food
,
Tony's Pure Systems
,
Tony's Water
,
Water purification systems
,
Water treatment centers
,
What are the benefits of drinking alkaline water
May 6, 2022 at 11:30 am
Comments (57)